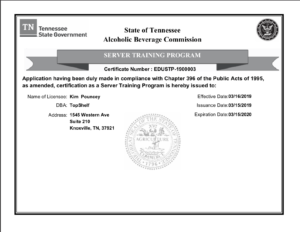 Yes, today March 15th, TopShelf has an online Server Permit program.
This means TopShelfEDU now has the complete course library of TN ABC Certified courses provided as classroom or online.
Our courses include:
Server Permit – course needed for your TABC 5-Year Server Permit commonly called your ABC Permit.
Responsible Vendor – (Beer and Wine)
Designated Manager – Retail Food Stores, Liquor Stores, and Airports
Proper Carding Techniques and Liability for both On and Off Premise sales
We are excited that 2019 will bring many new courses, programs, and change to TopShelf. We will be certifying in new states and writing new programs specific with state laws appealing to varied industries such as Distilleries.
TopShelf strives to be the best in alcohol awareness education. Our programs are written by experienced educators and adult e-learning specialists. We understand you need to have the necessary training completed as quickly as possible in order to work. We've been making that happen for over 20 years.
The Tennessee Alcoholic Beverage Commission requires training for all servers, bartenders, and front of the house managers in order to obtain their ABC Permit. Now that the RLPS is up and going through the Alcoholic Beverage Commission's website, applying for your permit is the first step and taking your class is the second.
The managers of a store can now be updated in the RLPS within the store's RLPS account.
Our volunteer state is moving slowly into the 21st century! Congratulations Tennessee!
The post ABC Permit courses offered online! appeared first on TopShelf™.
Source: TopShelf